10 Most Amazing Christmas Light Decorations in Arkansas
Looking at Christmas light decorations is one of the most enjoyable activities you and your family can partake in during the holidays. There are several ways to see Christmas lights near you. It can range from free "drive-by" neighborhood options to paid Christmas light shows. Heck, even courthouses get in on the decoration fun! Well, we want to help you take the tradition to a new level by showing you some of the best Christmas light decorations in the state. Let your Christmas spirit grow as we delve into 10 of the most amazing Christmas light decorations in Arkansas!
1. House from Springdale, Arkansas 
Neighborhoods in Springdale decorate their houses with Christmas lights every year. If you are close by, this can be a great free option. All you need to do is hop in the car and find some Springdale houses. Let the Christmas lights do the rest. 
2. Hodos Christmas House Van Buren, Arkansas
A great place to drive through for Christmas lights, Hodo's House packs a punch. Lights illuminate the night and kids can even drop of a letter for santa!
3. "Inflatable House" North Little Rock, Arkansas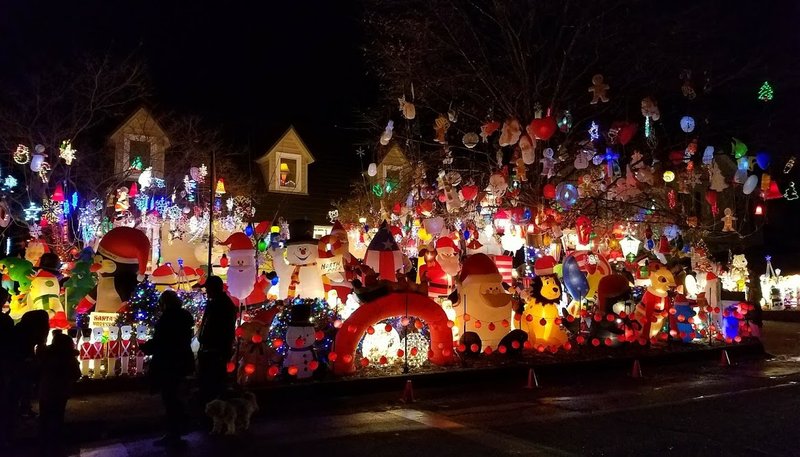 Although the owner has unfortunately moved away, it is still a crazy spectacle to behold. Arkansas online says there were "about 65 inflatables and over 300 plastic snowmen." This was one of the more spectacular designs by one family.The family does, however, plan to start the tradition again in their new home, so be on the lookout!
(credit:https://www.arkansasonline.com/news/2018/dec/24/inflatables-house-hosts-Christmas-display-final-ye/) 
4. Homes in
North Hills in North Little Rock, Arkansas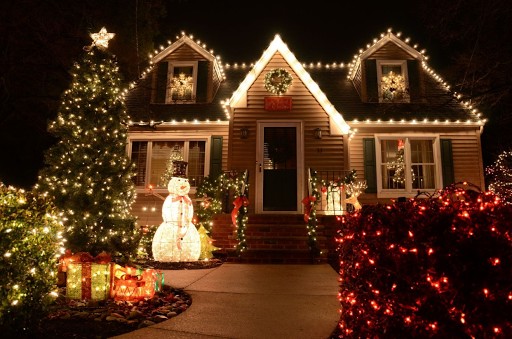 Another family friendly showing are the neighborhoods in North Hills. The houses can surely blow you away as you drive through. It can be best to drive around the town as a lot of the houses are decorated. North Hills people take Christmas lights seriously!
(credit:Robert Barnes / Getty Images)
5. Tony Circle in Conway, Arkansas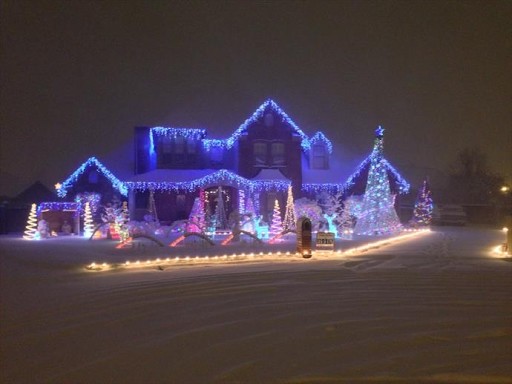 There are Christmas lights displayed all throughout this town as homeowners compete, according to Tie Dye Travels. You can make an evening trip, enjoy dinner, and then head off to some sightseeing! You can drive by residential decorations or walk the streets on a cold night in downtown. It can be a great date night for you and your significant other.
6. Bentonville, Arkansas
This is the place to go if you have a family. Bentonville turns the whole town into a Christmas wonderland. There is an ice skating rink, nativity scene, as well as Christmas lights. You can drive through neighborhoods watching light shows that will wow the whole family! 
7. Lights of the Ozarks in Fayetteville, Arkansas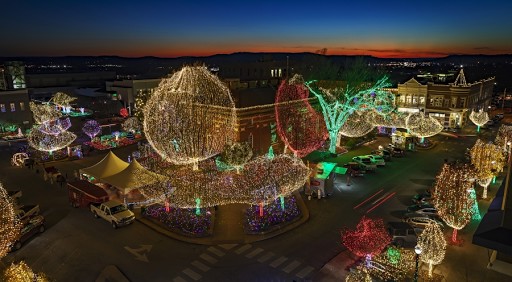 Opening Friday November 22nd, your family can enjoy a huge celebration.There will be a parade along with Christmas lights, food, music, and hot chocolate. The lights of the ozarks is a great way for your family to enjoy the holidays! 
(credit: https://www.experiencefayetteville.com/lights-of-the-ozarks)
8. Garvan Woodlands Garden in Hot Springs, Arkansas 
Gavan Woodlands puts on a fantastic Christmas light show. Covering several acres of land, this holiday event can keep you and your family busy for hours. They also have parts of the exhibits made out of ice!
(credit: https://www.garvangardens.org/photos-videos/default.aspx)
9. Homes in Crossett, Arkansas
A quick drive around these neighborhoods can be entertaining. It can be a great impromptu driving session for some Christmas lights. This can be a great date night idea after dinner!  
10. Lights of Delta Gosnell, Arkansas
According to their website, "Lights of the Delta is the largest Christmas Lighting display in the Mid-South region." This is a great drive-thru Christmas lights show that can take a while. Make sure to pack the car with some goodies as you drive around looking at beautiful decorations.
(credit: http://www.lightsofthedelta.com/display_photos_14.html)
If you would like to install Christmas lights this year, but don't know where to start, Handsome Holiday Heroes has you covered. It can really pay off to hire a Christmas lights installer as it will save you the time and hassle of hanging lights yourself. Contact us today and let us show you why we are rated #1 Northwest Christmas lighting company in Arkansas.