Are you looking for a Christmas Light Installer in Fayetteville Arkansas?
Handsome Holiday Heroes to the rescue!
We are the #1 rated Christmas light installer in Fayetteville, Goshen, Farmington, and Springdale (including Bentonville and the surrounding areas).
Handsome Holiday Heroes started servicing the Fayetteville region in 2013 and quickly became the most trusted Christmas light installer in the area!
Christmas in Fayetteville
Besides the fact that Fayetteville won the best city to live in the last three years running, there is another reason we we love Fayetteville, and that's there holiday spirit!
The city puts a lot of money and energy into making downtown Fayetteville INCREDIBLE for Christmas. If you haven't seen the downtown district during Christmas, make a point to go this season because it is beautiful! They call it The Light of the Ozarks, and it is an absolute spectacle!
We also have some Christmas light fanatics in Fayetteville who put up an incredible display of lights. Their installation is called the Stewart Family Christmas Light Display, and it is a MUST SEE if you want to experience the holiday spirit in Fayetteville.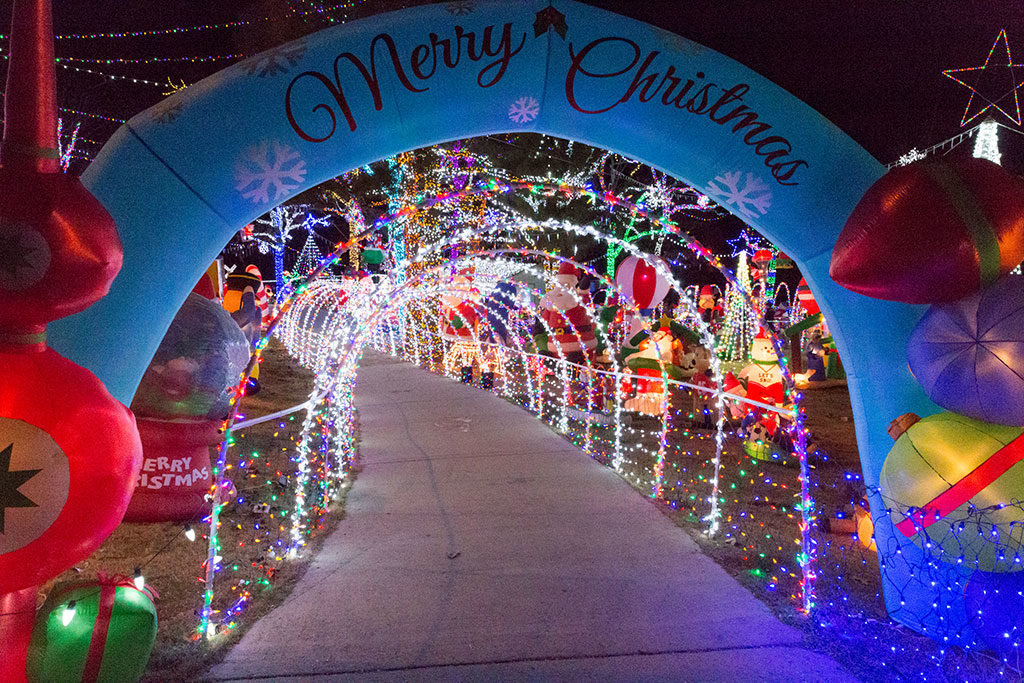 Christmas Decorating in Fayetteville – Then & Now
We founded our business in Eureka Springs and began learning all about Christmas Light installation there. By 2013, we decided to branch out and start offering our decorating services to Fayetteville. We began marketing by hitting the streets with door hangers and going neighborhood to neighborhood. After about a week of handing out door hangers our feet were sore and exhausted. Luckily, our efforts were not in vain, and we started getting inquiries from homes owners all across Fayetteville!
Much to our surprise, we had a number of residential homes decide to use our services early on in the holiday season. So we loaded up the truck and flew down to Fayetteville!
This period was back when we were still using Incandescent Christmas lighting for most of our installations. Incandescent lighting (the old traditional glass bulbs many of us grew up with) are an absolute pain to install with. The bulbs crack and break, they burn really hot, and consume a lot of power. Anytime your christmas light installer is using Incandescent lighting – BEWARE. They are a fire hazard and can cause shards of glass to be broken all around your property.
But we were just starting our business and learning all those challenging lessons along the way. Our first handful of jobs as Christmas light installers in Fayetteville were a very helpful learning experience. The old quote comes to mind, "The journey of a lifetime begins with a single step" Well, that's what we were doing. Luckily, we've gotten a little more wise over the years and now strictly LED Christmas lighting for all our installations.
Conclusion
We now install christmas lights across a wide of range of homes and businesses in Fayetteville Arkansas, and we're proud to say that we are the #1 Christmas Light Installer in Fayetteville Arkansas! Below are some photos of our christmas light installations. Feel free to contact us for a FREE christmas light quote. 
Photos of our Christmas light installations in Fayetteville Arkansas and the surrounding areas