Christmas Light Installation in Springdale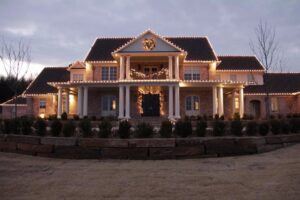 If you're looking for Springdale Christmas light installation services, Handsome Holiday Heroes is here to help. One of the most anticipated and beautiful parts of the Christmas season is the arrival of all the Christmas lights in Springdale neighborhoods. However, hanging Christmas lights can be frustrating and tedious. You're not looking forward to untangling all those light strands and doing your best not to fall off the ladder. Skip all the headache and aggravation and leave the Christmas light installation in Springdale to the pros this year.
Holiday decorations and Christmas lights make your home a welcoming destination for holiday gatherings. It's those little details and traditions that help build lasting holiday memories for your family. Before you stress over the chore of planning and hanging lights, consider having Handsome Holiday Heroes help you out and give you an unforgettable Christmas season this year!
The #1 Springdale Christmas Light Installation Company
Handsome Holiday Heroes installs Christmas lights in Springdale for any home or business. Whether you want to go all out with holiday decorations that are the talk of the town, or simply want an elegant and festive addition of Christmas lights to show off your Christmas spirit, we've got you covered.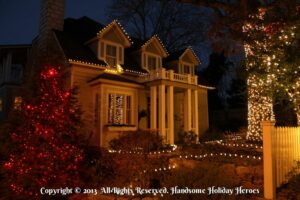 Here are the most popular Springdale Christmas Light Installation requests:
Design a custom Christmas lights display to dazzle friends, neighbors, and visitors.
Highlight doors, windows, archways, mailboxes, and rooflines with festive Christmas lighting.
Brighten walkways, driveways, and pathways with beautiful Christmas lights.
Hang outdoor decorations, including wreaths and yard decorations.
Decorate trees, shrubs and hedges with lights so your whole yard stands out.
---
Springdale Holiday Lighting Services for Homes and Businesses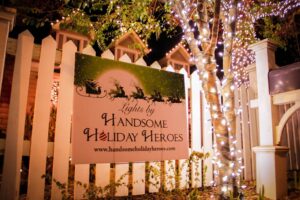 When you choose Handsome Holidays Heroes to hang your Christmas lights in Springdale, you're getting the best light installation service around. Our attention to detail and quality of lights exceed our customer's expectations every year.
Our creative outdoor lighting designers will customize a festive design that's perfect for your home. We can install Christmas lights in Springdale on buildings of any size or shape. And we use high quality lighting technology and materials to ensure your lights withstand even the harshest weather conditions.
---
When is the Best Time to Schedule my Springdale Christmas Light Installation?
The best time to order Christmas light installation in Springdale is as early as October and peak time in November, before the holidays are in full swing. Save yourself the time and hassle of hanging your Christmas lights this year and let Handsome Holiday Heroes do it for you!
The Process for our Customers
Handsome Holiday Heroes is the one-stop-shop for your Christmas light needs in Springdale. We do everything from design consultation to year-long decoration storage. Here's the 6 core services we provide for our customers:
#1 Design Consultation
We provide FREE quotes and consultations to all our customers. Call us, give us a few details, and in no time we'll have a digital quote sent straight to your inbox or phone complete with concept photos and pricing.
#2 LED Lighting
We provide only the best commercial grade LED lighting for all our installations. When you choose the Heroes, you'll have the brightest most energy efficient home on the block.
#3 Lighting Installation
Once you confirm your lighting design, our heroes will schedule your installation and handle all the hard work. Our team is trained, insured, and provide full service hassle-free installation.
#4 Maintenance
Did Santa break your lights? In the rare event of malfunctions during the holiday season, we'll fix and maintain your installation so your lights are always shining bright!
#5 Takedown Service
After January 1st, we'll schedule a date to safely remove all your decorations, mark and identify them, and store them at the North Pole.
#6 Storage
We provide year long storage for all your decorations and materials. No need to cram more containers in your garage or attic! Your materials will be neatly stored in our warehouse near Springdale awaiting for you next season!
---
What Are You Waiting For?