We now have Giant Marquee Letters for rent!
Giant Marquee Letters for Rent: A Guide to a Stunning Display
Are you searching for a way to make your event or celebration stand out? Giant marquee letters for rent can do just that! These oversized letters are perfect for creating an eye-catching display that will leave a lasting impression on your guests.
Based in Rogers, Arkansas,  Handsome Holiday Heroes is dedicated to providing high-quality lighting rentals for all your event needs. Our service area also extends to nearby cities like Fayetteville and Springdale, so no matter where you are located, we are here to help.
We are excited to announce that we have added the marquee letter rentals to our list of event lighting rentals in 2022! I (Heath Redding) spent about 4 months creating every letter in my wood shop and we now have amassed a collection of over 70 marquee letter characters including numbers and special characters like the hashtag and heart.
Whether you are planning a wedding, birthday party, corporate event, or any other special occasion, giant marquee letters will bring a touch of glamour and sophistication to your celebration.
Ways to Use Giant Marquee Letters for Rent
Weddings
Weddings are one of the most popular events for renting giant marquee letters. These letters are perfect for creating a stunning backdrop for your wedding photos, or for marking the entrance to your reception area. You can use your initials, the word "Love", or any other special word or phrase to create a personalized display. Many of our couples will also rent the small "the" and then write their last names with the letters.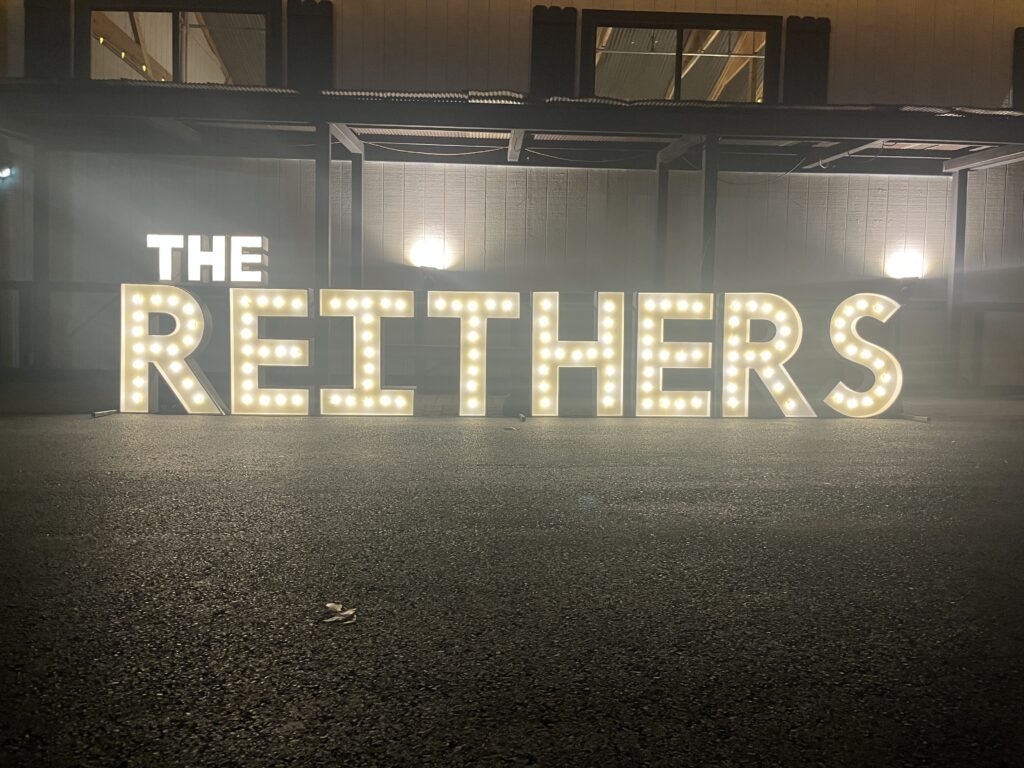 Birthday Parties
For birthday parties, you can use giant marquee letters to create a unique and eye-catching display. These letters are perfect for spelling out the birthday person's name, or for marking the location of the party. You can also use them to spell out a fun phrase like "Happy Birthday", "Celebrate", or show off their age like "#40"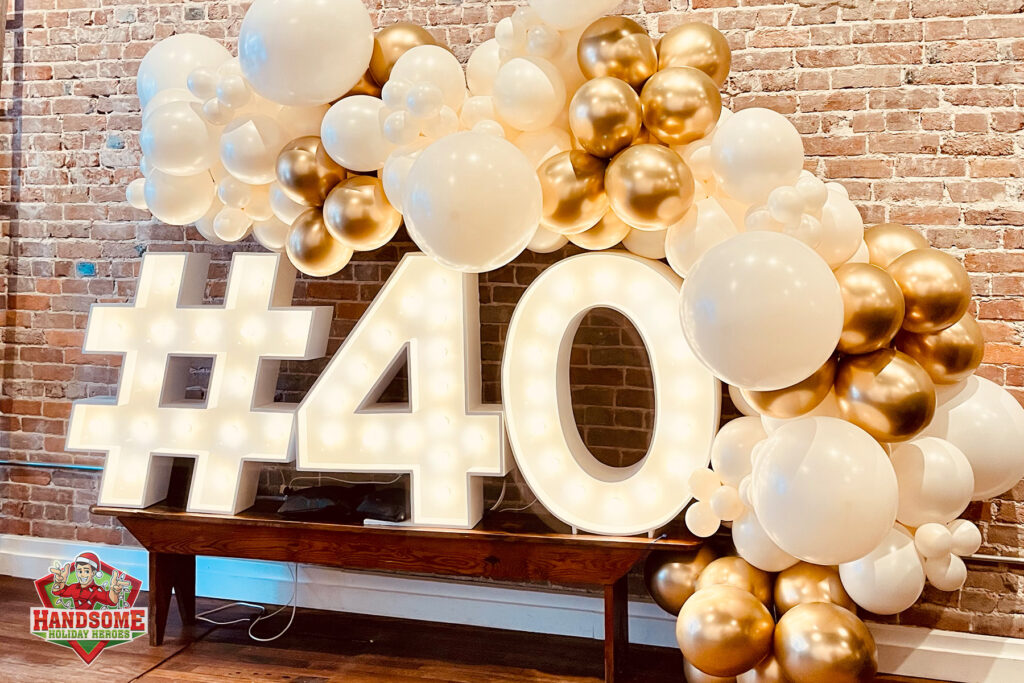 Corporate Events
Giant marquee letters are also popular for corporate events, such as trade shows, product launches, and networking events. These letters are perfect for creating a professional and memorable display, and they can be used to spell out your company name, logo, or tagline like we did for Benchmark Group's Christmas party in Rogers!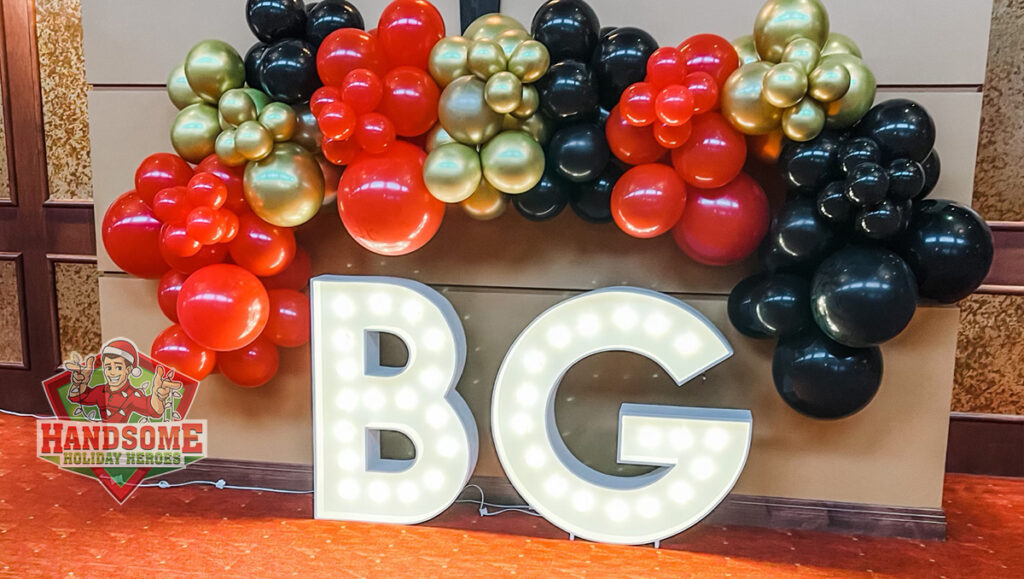 Photo Shoots
Giant marquee letters are also popular for photo shoots, such as engagement or maternity shoots. These letters are perfect for creating a romantic or whimsical setting, and they will make your photos truly unique and memorable.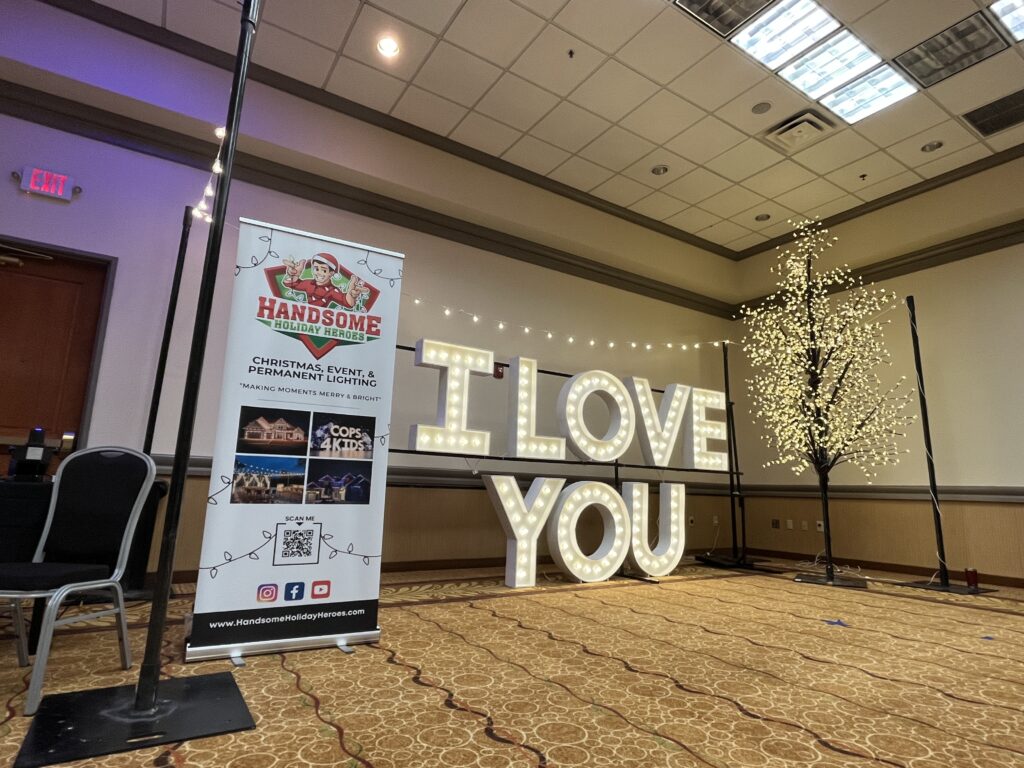 What You Need to Know Before Renting Giant Marquee Letters from Us
Availability
It is important to check the availability of our giant marquee letters in advance, as they can be in high demand during peak event seasons. Contact us to schedule your rental as soon as possible to ensure that you can secure the letters you need for your event.
Delivery and Set-Up
Delivery, setup, and removal is an additional fee if you rent the marquee letters. Our team will deliver the letters to your event location and set them up, ensuring that everything is in place and ready to go. Once the event is over we will remove them so there is zero hassle on your end!
Power Requirements
Giant marquee letters require electricity to function, so it is important to ensure that there is a power source available at your event location. Our team will discuss your power requirements with you in advance to ensure that everything is set up and ready to go. All of our marquee letters are made with LED lighting, so they pull very little power and a standard outlet will suffice. There is also a portable battery powered option we have available if you are wanting to setup the letters in an area without easily accessible power.
Customization
Our giant marquee letters are fully customizable, so you can choose the word you want to spell and even the bulb color to match your event's theme. We have the full color spectrum of LED bulbs colors and can blend them into your letters in whatever custom pattern you request. The warm white bulbs are our most popular option. Contact us in advance to discuss your customization options.
Rent Giant Marquee Letters from the experts! At Handsome Holiday Heroes we are dedicated to providing high-quality event lighting rentals and are so super excited to be offering our giant marquee letters for rent to Northwest Arkansas! Contact us today to learn more about pricing and reserve the marquee letters!