Marquee letters are a popular addition to any event, adding a touch of vintage charm and creating a focal point that is sure to impress. They are perfect for weddings, corporate events, parties, and any other occasion where you want to make a statement. If you're looking for marquee letters for rent, then you've come to the right place.
At Handsome Holiday Heroes, we offer a wide variety of marquee letters for rent, perfect for any occasion. Our selection includes giant 3-foot letters, light-up letters, custom letters, and more. Whether you're looking for traditional vintage letters, or something more modern, we have the perfect option for you.
One of the biggest advantages of renting marquee letters is the flexibility it offers. Rather than having to purchase letters outright, renting allows you to have the perfect set of letters for your event without breaking the bank. Our rental options are also a great solution for those who only need the letters for a one-time event and don't want the added expense of buying them.
In addition to weddings and corporate events, marquee letters are also perfect for backyard parties, photo booths, and other special occasions. The possibilities are endless with our rental options.
When it comes to choosing the right set of letters for your event, there are a few things to consider. First and foremost, think about the theme of your event. Knowing the theme will help you determine what you want to spell. We have special characters like the "#" and heart to help make words that are fun and share worthy.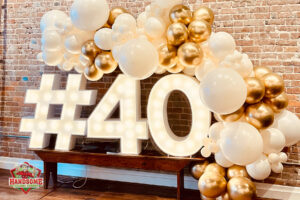 Another important consideration is the size of your event space. Our giant 3-foot letters make a big impact, but they do take up quite a bit of space. Most of marquee letters are about 2′ wide by 3′ tall. Our frames that help hold up the letters are built in 9′ sections, so consider these numbers to make sure you have enough space at the venue.
Finally, think about the overall aesthetic of your event. Will the letters be used as a backdrop for a photo booth? Or will they be the focal point of the room? The placement of the letters will also impact the overall look and feel of your event.
At Handsome Holiday Heroes, we understand the importance of getting the details right. That's why we work closely with our clients to ensure that their marquee letters are the perfect fit for their event. From the initial consultation to the final installation, we are dedicated to making your event a success.
In addition to marquee letters for rent, we also offer a wide range of event lighting services. From string lights to uplighting, we have everything you need to create the perfect ambiance for your event.
So whether you're planning a wedding, corporate event, or backyard party, let Handsome Holiday Heroes help you make a statement with marquee letters for rent. With our wide selection of letters and commitment to customer satisfaction, we are the premier choice for event lighting in Northwest Arkansas.
In conclusion, if you're looking to add a touch of charm to your event, then consider renting marquee letters from Handsome Holiday Heroes. Our wide selection of letters, competitive pricing and commitment to customer satisfaction make us the premier choice for event lighting in Northwest Arkansas. So why wait? Browse our selection today and let us help you make your next event a memorable one. Contact us here to rent our marquee letters!